Mindful Meditation with Practitioner Isabel Gachko
Posted on Posted on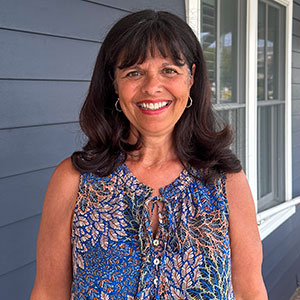 Practitioner Spotlight: Isabel Gachko Meditation Practitioner of Mary's Place by the Sea
We are so grateful to share a Q&A blog post from our Practitioner Spotlight Series. Isabel Gachko is a Meditation Practitioner at Mary's Place by the Sea.
Q: What drew you to our mission?
A: I lost my mom to cancer and my dad also struggled with cancer. I know some of the challenges that come with dealing with this illness. I believe that providing a holistic, caring, compassionate place where women can find peace, solidarity, and kindness is instrumental in the healing process.
Q: How would you describe the services that you provide for the guests of Mary's Place?
A: I practice gentle yoga flow and meditation which includes breathing techniques, mindful movement, and body scans. Through meditation, my goal is to guide our guests through a peaceful practice that brings them out of the mind and into the body. By doing this, it invites them to let go of stressful thoughts or anxieties and to find peace in the present moment.
The Most Rewarding Part of Working Here
Q: What has been the most rewarding part of being involved with our mission?
B: Sharing time with these incredible women is the most rewarding part of what I do. They are so brave, strong, fun, and loving. When I hear that someone has benefited from a practice that I offer or has incorporated one of the practices into their life I am so grateful.
Q: What have you learned from your experience as a Practitioner at Mary's Place?
A: I am extremely grateful for the opportunity to work with the Mary's Place guests. It is an honor to share time with them and all of the women who make Mary's Place special. I have learned that all of us are deeply connected and can benefit from caring for each other. I have also learned that the practices of yoga, meditation, Healing Touch and prayer, that have evolved from the many religions of the world, offer a path to healing, compassion, and loving kindness.
Q: How does your experience reveal what Mary's Place by the Sea is all about?
A: Mary's Place is all about love, being loved, and loving others. It's what you feel as soon as you enter the front door or connect virtually with all of the women there.
---
 If you're interested in staying at Mary's Place by the Sea and working with our practitioners, please visit our Guest Information Page.