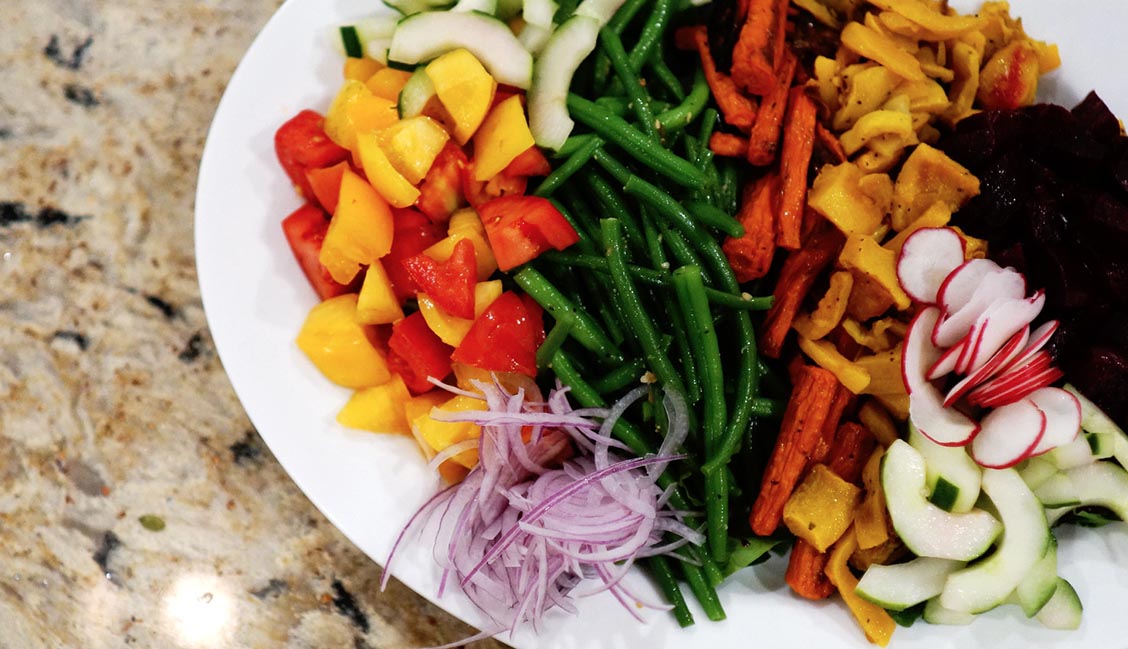 Posted on Posted on
Featured Recipe: A Protein-Packed Power Meal
A healthy, balanced bowl packed with delicious veggies that will leave you feeling full and nourished!
Mary's Place by the Sea strives to provide guests and readers with the resources to help ease their journey. We believe that a healthy, all-natural meal is the key to more energy and a happier you. With the help of our phenomenal staff, we are proud to provide this easy recipe.
Ingredients
¼ cup sliced almonds (toasted)
¼ cup sunflower seeds
2 medium beets (peeled, cut into 1-inch cubes)
2 small sweet potatoes (cut into 1-inch cubes)
4 tsp olive oil
½ tsp ground cumin
Sea salt or Himalayan salt (to taste)
Ground black pepper (to taste)
2 cups brussels sprouts (cut in half lengthwise)
½ medium avocado (cut into chunks)
¼ cup water
2 TBSP fresh lime juice
1 TBSP rice vinegar
1 clove chopped garlic
1 tsp raw honey
2 cups cooked bulgur (warm)
2 cups chopped kale
1 15-oz. can chickpeas/garbanzo beans (drained and rinsed)
Directions
Step (1) Preheat the oven to 425º F.
Step (2) Place beets and sweet potato on a large baking sheet. Drizzle with ½ tsp. oil. Season with ¼ tsp. cumin, salt and pepper (if desired).
Step (3) Bake for 10 to 15 minutes; stir.
Step (4) Add Brussels sprouts. Drizzle with ½ tsp. oil. Bake for 20 minutes, stirring halfway through, or until vegetables are tender-crisp.
Step (5) While vegetables are baking, make dressing by placing avocado, water, lime juice, vinegar, remaining 3 tsp. oil, garlic, honey, remaining ¼ tsp. cumin, and salt in a blender (or food processor); cover. Blend until smooth. Set aside.
Step (6) Evenly divide bulgur between four serving bowls. Evenly top with kale, chickpeas, roasted vegetables, dressing, almonds, and sunflower seeds; serve immediately.
---
Want to make more recipes like this? Purchase our cookbook today!