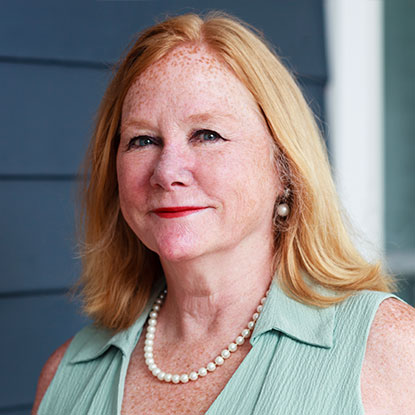 Office Manager
Clare began as a volunteer for Mary's Place by the Sea when they opened their doors in 2009. She organized and facilitated a monthly Rosary as a way to gather supporters and provide a group prayer for the newly-founded mission. As momentum grew, so did the need for increased financial support. As a mother of two sons, both with Cystic Fibrosis, Clare has become well-schooled in fundraising for a cause. She created the first Walk-A-Thon for Mary's Place by the Sea in 2012. This event is a major fundraiser for Mary's Place by the Sea each year.
In 2013, Clare began working part-time in the office, sharing her expertise as an office manager and bookkeeper. She was able to alleviate some of the duties from the founders, allowing them to focus on community outreach and program development. Clare is currently a full-time Office Manager at Mary's Place by the Sea. Being in the house each day, interacting with the guests of Mary's Place by the Sea has impacted her life in ways she would have never thought.
Complete your reservation inquiry
The first step in becoming a guest is to complete our reservation inquiry. You will also have the opportunity to indicate which services you are interested in. Once we have received your inquiry, a member of our team will contact you to schedule your retreat. Reservations are scheduled in the order we receive inquiries.
Reservation Inquiry